cara membuat perkedel jagung ato sering dikenal bakwan jagung
Bahan:
2 bonggol jagung manis ukuran besar, pipil
2 sdm tepung beras
150 gr tepung terigu
2 batang daun bawang iris
Secukupnya Garam dan kaldu bubuk
Secukupnya Air matang
Minyak untuk menggoreng
.
Bumbu halus
5 siung bawang merah
3 siung bawang putih
1/2 sdt merica bubuk
.
Cara membuat:
1. Siapkan wadah, masukkan jagung bumbu halus, tepung, daun bawang, garam, dan kaldu bubuk kemudian aduk rata.
2. Tambahkan air secukupnya saja pastikan adonan tidak encer dan tidak keras, aduk sampai merata.
3. Ambil adonan 1sdm dan goreng ke dalam minyak panas sampai matang kuning kecoklatan dan perkedel jagung siap disajikan.
Perkedel Jagung Padang: The Flavorful Snack From West Sumatra
Indonesia is known for its diverse cuisine consisting of rice, noodle dishes, spices, and herbs. One of the popular snacks in Indonesia is perkedel, a fried or mashed potato ball mixed with ingredients such as meat, vegetables or corn. In West Sumatra, there is a unique variation of perkedel that uses corn as its main ingredient – perkedel jagung Padang.
Perkedel jagung Padang originated from the Minangkabau culture in West Sumatra. It is typically served as a snack or side dish during family gatherings or special occasions. The dish comprises yellow corn kernels mashed with spices and herbs such as lemongrass, galangal, garlic, chili pepper and shallots. This mixture is then formed into small patties before being deep-fried until crispy golden brown.
The distinct taste and aroma of perkedel jagung Padang come from the combination of tangy and aromatic flavors from the herbs and spices infused in the corn mixture. The texture of the crispy exterior contrasts perfectly with the softness on the inside.
Perkedel jagung Padang is often enjoyed with spicy sambal sauce made from chili peppers mixed with salt and vinegar for a perfect flavorful bite. It pairs well with other Indonesian dishes like nasi goreng (fried rice) or soto ayam (chicken soup), making it a perfect addition to any meal.
Not only does perkedel jagung Padang offer delicious taste for your palate but it also has added health benefits. Corn contains fiber that can help your digestion process while being rich in vitamins A,B,C,E & zinc.
In conclusion, Perkedel Jagung Padang is one of Indonesia's unique and flavorful snacks to try that represents Minagkabau culture in West Sumatra. Giving you balanced flavor through its ingredients blend while providing added health benefits not just for your palate but also your digestive system too!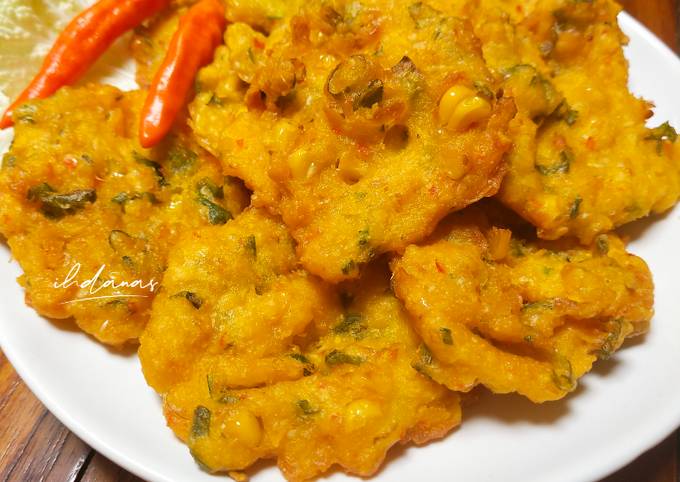 Resep Perkedel Jagung Khas Padang oleh ihdanas – Cookpad
PERKEDEL JAGUNG PADANG PANJANG Bahan-bahan: 2 batang daun bawang 2 buah jagung 3 siung bawang putih 4 buah cabai keriting merah 1 sdt gula ⅔ sdt garam sejumput lada bubuk ¼ sdt lada bubuk 1 butir telur 4 sdm tepung terigu #resepmasakan #resepmudah #perkedeljagung
perkedel jagung
How to make Perkedel Jagung Renyah? Perkedel Jagung Renyah is a traditional Indonesian corn fritter. To make it, you will need corn, onions, garlic, chili peppers, and a variety of spices. The corn is mixed with the spices and vegetables, and then deep-fried until golden and crispy. Finally, the fritters are served with a dipping sauce.
cara membuat perkedel jagung
Untuk membuatnya, Anda membutuhkan jagung, bawang merah, bawang putih, cabai, dan berbagai macam bumbu. Jagung dicampur dengan bumbu dan sayuran, lalu digoreng hingga berwarna keemasan dan renyah. Terakhir, gorengan disajikan dengan saus cocolan.
bakwan jagung
bumbu perkedel jagung
cara buat perkedel jagung
cara bikin perkedel jagung
resep perkedel jagung renyah
perkedel jagung padang
bahan perkedel jagung
perkedel jagung renyah